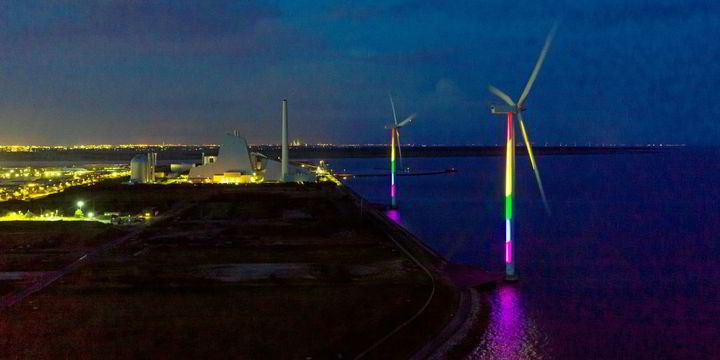 Orsted from tomorrow through August 22 will light the three wind turbines at its Avedøre power station in the outskirts of Copenhagen in rainbow colours to celebrate two events of the LGBTI+ community.
As an official partner of Copenhagen 2021 – WorldPride, EuroGames and the Human Rights Forum – the Danish utility is aiming to promote diversity and inclusion.
LGBTI+ stands for lesbian, gay, bi-sexual, transgender and inter-sexual identity and sexual orientation.
Denmark has a strong queer tradition and in 1989 was the first country in the world to recognise same-sex partnerships as a civil union. The law was expanded to same-sex marriage in 2012.
Orsted also promotes diversity and inclusion at the work place.
"As a sustainable company, we work not only for a greener world, but also to be an inclusive company with room for everyone and equal opportunities for all, regardless of personal characteristics," said Henriette Fenger Ellekrog, executive vice president and chief HR officer at Orsted.
"The three wind turbines in rainbow colours are a symbol of this.
"We're pleased to support Copenhagen 2021. The event is a tribute to diversity and the right to be who you are – which we support globally at Orsted. We're proud of the diversity in our workforce and find that different perspectives strengthen our ability to be innovative as we pursue our vision of creating a world that runs entirely on green energy."
More than 1,000 employees participate in Orsted's global inclusion networks, the company said.
This post appeared first on Recharge News.