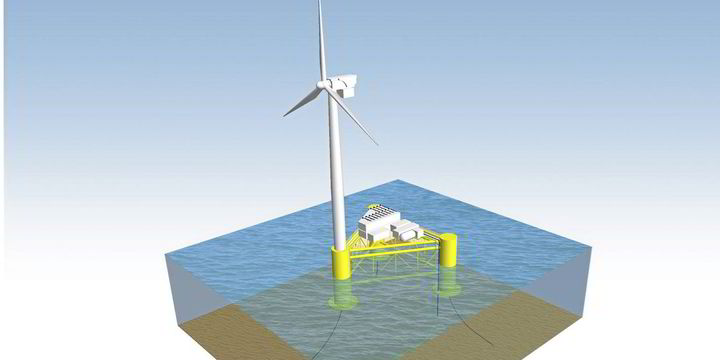 Construction of a flagship floating wind-powered hydrogen complex off Scotland could be underway as early as 2026 following the signing of a memorandum of understanding (MoU) between the developers of the 200MW Salamander project and technology outfit ERM.
Simply Blue Energy (SBE) and partner Subsea 7 aim to use ERM's pioneering Dolphyn electrolysis, desalination and hydrogen production concept for the project, with Scotland Gas Networks (SGN) signed up to explore channelling H2 output from Salamander into its gas infrastructure as part of its future "decarbonisation roadmap".
"The Salamander project has been investigating different routes to market since its inception and due to its advantageous location off Aberdeenshire the project believes producing green hydrogen is a very interesting option," SBE and Subsea7 said in a statement.
"Green hydrogen is viewed as a vital ingredient in achieving the net zero ambition of the UK. Considering the huge multi-gigawatt potential of floating wind in the UK, pairing green hydrogen with floating wind is a very sensible option and an obvious solution to scaling up green hydrogen production."
SGN operates the gas distribution networks in Scotland, which via the lead-off phase of the North East Network and Industrial Cluster Project is looking to develop the hydrogen economy in the former oil & gas capital of Aberdeen and the surrounding area.
Incorporating ERM's Dolphyn technology into Salamander – which will be based around wind turbines mated to a next-generation platform design from start-up Ocergy – is foreseen being able to make a "material impact" on the Scottish government's aspiration to deliver 1GW of floating wind power by 2030 and 5GW of green hydrogen by 2030.
"The proximity to St Fergus Gas Terminal, the significant interest in the energy transition in the Aberdeenshire and Aberdeen City regions demonstrated by the recently announced Energy Transition Zone, as well as key flagship projects such as Aberdeen Vision make Salamander the ideal location for green hydrogen production," said the partners.
"The combination of innovative floating wind and green hydrogen technologies, and the pipelines and assets surrounding the St Fergus Gas Terminal present an ideal opportunity to begin to decarbonise North Sea energy production."
Salamander project director Adrian de Andres said: "When we started the Salamander project, we always envisioned a stepping-stone project and a catalyser for future, bigger commercial opportunities. Considering the rapidly approaching 2030 deadline for the floating wind and green hydrogen targets, we now think the Salamander project could act not only as a stepping-stone for floating wind but also potentially for green hydrogen production, paving the way for multi-gigawatt green hydrogen developments in the 2030s.
"The Salamander project is targeting a lease under the upcoming innovation and decarbonisation leasing process and looks forward to putting forward our ambitious green hydrogen plans to Crown Estate Scotland and Marine Scotland. We believe our vision very much fits with the objectives set by the Scottish government in the hydrogen policy statement as well as the decarbonisation of the North Sea."
ERM major projects director Steve Matthews said: "Our ambition for ERM Dolphyn is to progress towards multi-gigawatt, green hydrogen-producing floating wind farms over the next decade – in the UK, Europe and further afield. Salamander potentially provides an ideal first step for us and, with the valuable support of government and industry, it will help position Scotland and the UK at the forefront of green hydrogen generation."
Prior to the Salamander project, ERM Dolphyn aims to undertake a 10MW demonstration project, which would produce green hydrogen offshore and provide the first step needed to scale up at Salamander.
Scottish construction yard owner Global Energy Group (GEG), which is moving ahead with a project that would reinvent the Port of Nigg in the Scottish Highlands as the UK's largest offshore wind fabrication and marshalling facility, in May signed an MoU for the building of Salamander.
Simply Blue is currently developing the giant 1GW Emerald floating wind project with Shell and the 300MW Valorous and 100MW Erebus pre-commercial arrays with Total in the Celtic Sea, as well as 1.1GW Western Star floating wind-wave development in the Irish Atlantic.
Floating wind power has battled rough market seas since the sector's first industrial-scale unit was installed off Norway in 2008, dogged by a reputation of being experimental and prohibitively expensive as it chased conventional bottom-fixed offshore wind down the cost-of-energy curve.
Now, however, on the brink of international industrialisation, with first arrays under construction and analysts forecasting some 260GW of floating turbines to be turning by mid-century, the fledgling sector is being paired with hydrogen production as a potentially market-changing play, with first projects under development by oil and power giants including Total, Engie and Acciona.
This post appeared first on Recharge News.