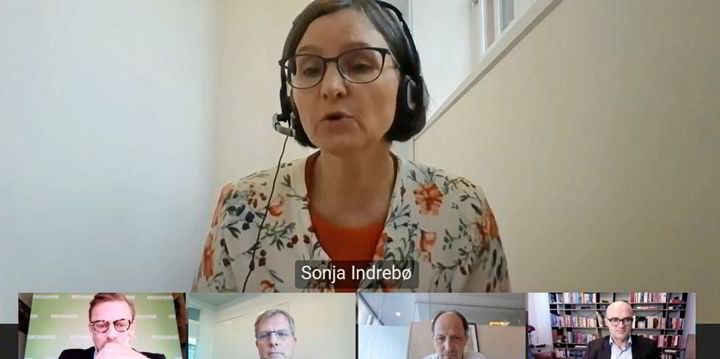 Offshore wind can open "an ocean of possibilities" to help tackle the global climate crisis, provided it can successfully make the leap to 20MW-sized turbines and highly-industrialised giga-scale projects while driving power costs down, a high-level Recharge digital roundtable was told.
With COP26 underway in Glasgow, the Recharge event brought together major offshore wind technology pioneers and developers to discuss the potential of a sector that they said is uniquely placed to deliver massive electrification, as well as large-scale green hydrogen production and decarbonisation of offshore oil & gas operations.
Javier García Pérez, offshore wind business director at Spanish utility Iberdrola, said the renewable source will be crucial in helping nations and companies meet stretching decarbonisation goals.
"We need to install capacity very quickly to meet targets," Pérez told the roundtable. "If there is a technology that is in a position of providing green electricity [at large] capacity, that is offshore wind."
But the Iberdrola executive – whose company is planning some of the biggest projects globally, including the 3.1GW East Anglia Hub off the UK – warned that the sector would need to continue to bear down on cost. "We need to all the time aim for reducing the cost of energy."
Recharge editor-in-chief Darius Snieckus, who moderated the discussion, said: "To get from 35GW [of operation offshore wind plant] today to 2TW by 2050 globally as many analyst groups are now forecasting is hugely ambitious, of course, but realisable in the view of most industry number-crunchers, given the many regions that are going to contribute most to this terawattage: wider Europe, China, South Korea, Japan, Taiwan, the US.
Article continues below the advert
"But the question remains how the industrial sector – yards, fabricators, ports etcetera – are going to take shape to support this growth."
There are almost no limits to what we can do with offshore wind right now.
However, key technology providers to the sector, including Siemens Gamesa, were upbeat over its ability to meet the challenges ahead, especially as floating wind approaches large-scale commercial deployment.
"We have the technology that can take us a long way. There are almost no limits to what we can do with offshore wind right now. There is an ocean of opportunities out there," Jesper Møller, head of balance of plant operations at the wind turbine group, told the first roundtable in the three-part Global Offshore Wind Forum organised by Recharge in conjunction with sister title Tradewinds.
Møller said floating wind has a "super-interesting future" as it begins to unlock opportunities so far untapped by fixed-foundation deployments.
"Floating wind can enable the use of wind turbines for a lot of different consumers and energy forms. [The industry is] daring to think of new solutions," such as a tools to supply green power to existing offshore oil and gas operations.
In production of hydrogen and its derivatives, "there we can see you can open up a completely new market with massive potential – maybe even larger than pure electricity production in the long run".
Møller was upbeat over the ability of floating structures to support the massive turbines already being produced by Siemens Gamesa and others. "Floating foundations actually scale rather well with larger turbines," he told the digital roundtable, moderated by Recharge Editor-in-Chief Darius Snieckus.
That potential to scale was endorsed by Marco Wiedijk, vice president of business development for floating platform pioneer Principle Power.
'Scale the next challenge'
Wiedijk said the company, among the first to deploy floating wind prototypes and pilot projects, now has its sights firmly set on scale, both of platforms themselves and the production processes needed to support massive future projects.
"Large scale is where we need to go – that's the next challenge," said Wiedijk.
"We are now designing for 10MW, 15MW and even 20MW – and we are working on these turbines to see how they translate into the design. As a matter of fact, we see a good scaling factor for larger turbines."
The Principle Power executive told the roundtable how the company is working to modularise its systems so they can be built in various locations and brought together for assembly.
Fellow floating pioneer Equinor – which deployed the world's first array, Hywind Scotland, in 2017 – is also focusing on scale and industrialisation, said Sonja Chirico Indrebø, Equinor's vice president of floating offshore wind.
The Norwegian energy giant this week unveiled its 'Wind Semi' semi-submersible concept that Indrebø said would help floating tackle the various deployment challenges it faces as it looks beyond northern Europe and towards markets such as California, where depths up to 1,300 metres could be in play.
"We wanted a simple design that works in other geographies, we wanted to build something that is easily industrialised."
As COP26 seeks to drive the decarbonisation agenda, Indrebø added: "Floating offers so many benefits. As an industry we've shown were ready, now we need regulators and government to speed up the process", for example by offering more areas for leasing.
Scott Urquhart, CEO of analyst Aegir Insights, told the roundtable that the offshore industry as a whole will not be short of new opportunities, with the sector reaping the rewards of its track record of rapid technical innovation allied to steep cost reduction.
"When you're an industry that delivers better than expected… the market gives you more," Urquhart said, noting the potential of big Asian nations such as Japan and South Korea, and less heralded opportunities such as the Black and Caspian Seas.
With the floating sector poised for lift-off, Urquhart said it "will be very interesting to see whether [its supply chain] is going to be focused in one region or fragmented across the world".
· A replay of the roundtable is available to view here. The event was one of three held by Recharge and sister title Tradewinds as part of the 2021 Global Offshore Wind Forum
This post appeared first on Recharge News.