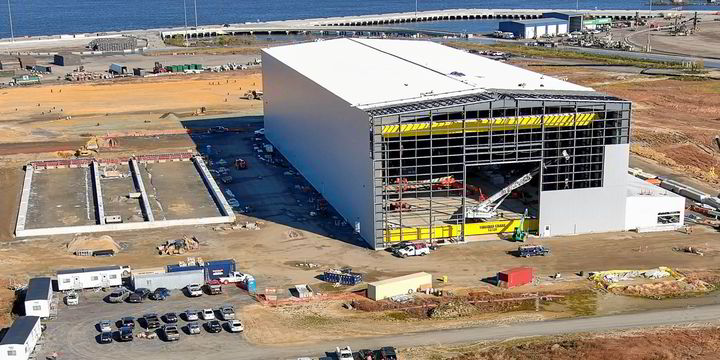 The US state of New Jersey is targeting tier-1 offshore wind manufacturers with generous tax breaks as it jockeys to position itself as the "American capital" of the fast-emerging regional industrial play.
Focus your mind: get the insight you need with the Recharge Agenda
The global energy transition is gathering momentum – and the accompanying news-stream becoming an information deluge. Separate the green giants from the greenwash and the hard facts from the click-bait headlines with Recharge Agenda, our curation of the market-making events of the week, distilled down into one quick-read newsletter. Sign up here for free
The state government said it would provide credits of up to 60% of the investment value for new-build supply chain infrastructure including factory projects on the condition of a minimum $50m buy-in and creation of at least 300 new, full-time jobs .
The two-year-old Offshore Wind Tax Credit (OWTC) programme – revived under the New Jersey Economic Recovery Act Covid-relief package passed last December and more than tripled in value to $350m – began accepting applications on Monday (5 December). The tax credits could be applied against corporate business tax or insurance premiums of any investor.
"The OWTC is a powerful financial tool that will [enable] global offshore wind companies to make the decision to locate, invest, hire and, most importantly, build a local supply chain here in New Jersey, "said Tim Sullivan, CEO of the New Jersey Economic Development Authority (NYEDA), the state agency tasked with implementing economic policy and law, in a statement.
"The Garden State is quickly emerging as the American capital of offshore wind," he added.
This is the latest move by New Jersey to positions itself as a major industrial hub in US offshore wind. Governor Phil Murphy's office announced a further $265m injection into the New Jersey Wind Port on top of $257m already committed. Once completed in 2026, the 200-acre offshore marshalling and manufacturing hub in Salem County will be one of the largest sector facilities in the US.
Article continues below the advert
The state has committed to producing 7.5GW of offshore wind energy by 2035, and is partnered with regional transmission operator PJM on a multi-billion dollar offshore wind power transmission plan which has attracted nearly 70 bids from utilities and merchant transmission developers.
"New Jersey has taken a leadership role in the offshore wind space and I think they will benefit from that in terms of the investments," Lucas Stavole, senior wind energy analyst for Wood Mackenzie, told Recharge.
To qualify for the OWTC program, investments must pass an economic impact assessment demonstrating that they will generate returns of 110% of their value within a five-year time period. The program criteria allows for a phased-in approach of at least 150 new jobs created by the second year, and 300 total new jobs by year four. The net-benefit period can also be extended to up to 20 years if applicants can present verifiable evidence of a longer commitment to the state.
"Paying out a tax credit over five years is faster than what we've seen in our other programmes," Brian Sabina, NJEDA's chief economic growth officer, told Recharge. "This programme is much more front-end loaded because there's more uncertainty in the business cases that these companies are facing right now and we want to ensure that we can provide some tax credits early on in those investment decisions."
The OWTC scheme was originally introduced in 2019 as part of Murphy's energy 'master plan' but had no takers.
"We had some great conversations around it, but it was still too early for the industry and none of the companies were willing to commit at that time," Sabina said.
Recent industry momentum, fuelled by the US Biden administration's ambitious 30GW of offshore wind by 2030 target as well as New Jersey's own support, have changed that dynamic. The program was revised in the interim based on feedback from prospective investors.
The OWTC now allows for a phased-in approach to jobs creation and extends throughout the state, in contrast to its original restriction to capex investments in New Jersey's underdeveloped south. Sabina said the revised program has attracted interest but demurred in naming companies or industries.
New Jersey currently has three projects under development, including the 1.51GW Atlantic Shores, being developed by a joint venture of Shell New Energies and EDF Renewables, as well as the 1.1GW Ocean Wind 1, under Orsted and local utility PSEG, and the 1.14 Ocean Wind 2, owned by Orsted.
GE Renewables, Siemens Gamesa Renewable Energy, and Vestas North America, have all submitted bids for manufacturing space at the Wind Port. Vestas has preferred supplier status for its new 15MW turbine with Atlantic Shores, while GE Renewables is in the frame for the two Ocean Wind projects for its 14MW Haliade-X turbines.
"There's a premium to be located at the port, and it's designed and built for tier one components manufacturing and assembly," Jonathan Kennedy, managing director for infrastructure for NJEDA, told Recharge.
This post appeared first on Recharge News.