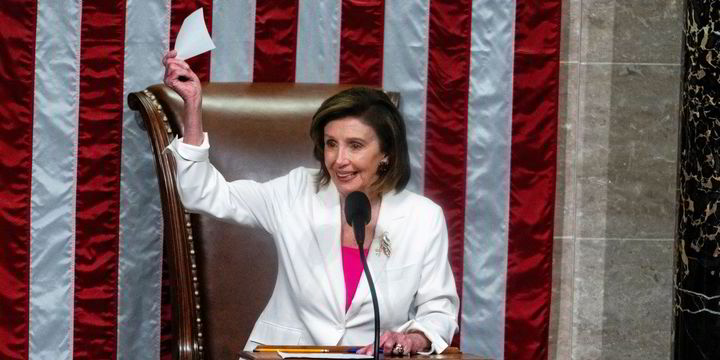 A ten-year tax credit worth up to $3 per kilogram of "clean hydrogen" was approved by the US House of Representatives on Friday as part of President Joe Biden's Build Back Better Bill.
The cleaner the hydrogen produced, the higher the tax credit received by producers — a move that could make green H2 derived from renewable energy cheaper than highly polluting grey hydrogen made from unabated methane.
Green hydrogen is said to cost $2.50-6/kg, compared to $1-2/kg for grey — although the latter will depend on the natural gas price. So a $3/kg subsidy on green H2 could really shake up the US hydrogen market.
The House version of the bill states that only hydrogen with lifecycle greenhouse gas emissions of less than 0.45kg of carbon dioxide equivalent (CO2e) per kilo of H2 will be eligible for the full $3 credit, which is set to begin next year.
Those with higher emissions would be eligible for smaller percentages of the clean hydrogen production tax credit rates, as follows:
0.45-1.5kg CO2e per kg of H2: 33.4% of the full tax credit (ie, $1/kg of hydrogen)
1.5-2.5kg CO2: 25% ($0.75/kg)
2.5-4kg CO2: 20% ($0.60/kg)
4-6kg CO2: 15% ($0.45/kg)
Projects must begin construction before 2029 to claim the tax credit, while facilities in the 4-6kg CO2/kgH2 category must be placed into service before 2027.
Article continues below the advert
The House version of the bill adds: "Not later than one year after the date of enactment of this section, the Secretary [of Energy] shall issue regulations or other guidance to carry out this section, including for determining lifecycle greenhouse gas emissions and the process for requiring verification by unrelated third parties of production and sale of clean hydrogen."
It will therefore be up to the Energy Secretary — currently Jennifer Granholm — to determine if upstream methane emissions will be included in the lifecycle calculations.
Will blue hydrogen projects qualify for the tax credit?
A 2018 study published in the journal Science found that an average of 2.3% of the methane produced each year in the US leaked into the atmosphere — with the rate in Texas' Permian basin far higher at 3.7%.
Methane is 86 times more powerful a greenhouse gas over a 20-year period compared to CO2. And as each 1kg of grey hydrogen produced using the standard steam methane reformation [SMR] process requires just over 3kg of natural gas, that equates to an average CO2e of roughly 5.9kg per kilo of H2 over 20 years (when using the 2.3% leakage figure).
Th0se upstream methane emissions would apply equally to blue hydrogen derived from methane with carbon capture and storage (CCS).
Grey hydrogen produced via SMR usually emits 9-12 kg of carbon dioxide per kilo of hydrogen. And because CCS is said to be able to only capture 70-85% of the CO2 emissions from the SMR process, that would add a further 1.3-3.6kg of CO2e to the total — making such projects ineligible for the hydrogen tax credits, presuming methane emissions are included in the Department of Energy calculations.
Only blue hydrogen produced through autothermal reforming — a more energy-intensive and expensive process that enables up to 98% of CO2 emissions to be captured — would qualify for the 15% tax credit rate, but only just.
What happens next?
The passage of the bill in the House of Representatives came days after it approved the passage of the $1.2trn Infrastructure Investment and Jobs Act, which legislated for $9.5bn of federal cash to be spent on reducing the cost of green hydrogen to less than $2/kg by 2026, as well as the creation of at least four regional hubs for the production and usage of green, blue and pink (nuclear) hydrogen.
That bill has already been signed into law by President Biden, but the Build Back Better Bill still needs to be passed by the US Senate, which is split 50: 50 between Democrats and Republicans — with a deciding vote by Vice-President Kamala Harris being enough to get bills through.
Due to the even split between senators, centrist Democrats Joe Manchin and Kyrsten Sinema have often been able to at least partly amend legislation according to their whims, but Recharge understands that neither are likely to object to the hydrogen production tax credit.
However, other language in the 2,468-page bill may need to be amended before the two senators approve the bill. No date has yet been set for a Senate vote.
This post appeared first on Recharge News.