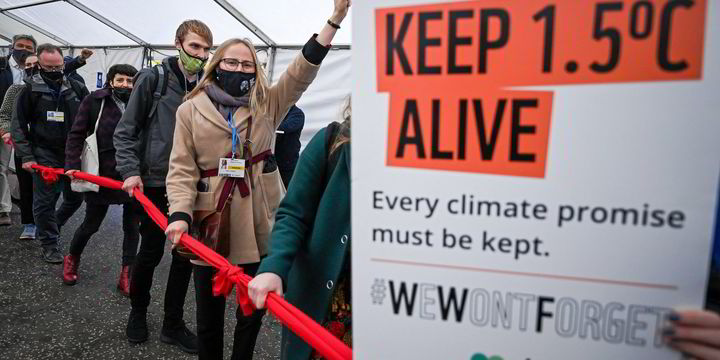 COP26 is due to wrap up today (Friday) but poised to go to extra time, with plenty still to hammer out in Glasgow and the final outcome far from certain as this week's Recharge Agenda hits your inbox.
What we know for sure is that one of the biggest battles of any agreed final COP text will be over a reference to phasing out fossil fuel subsidies. As predicted by activists when the line appeared in a first draft agreement, there are doubts over how much it will be watered down or whether it will make the final cut at all.
Focus your mind: get the insight you need with the Recharge Agenda
The global energy transition is gathering momentum – and the accompanying news-stream becoming an information deluge. Separate the green giants from the greenwash and the hard facts from the click-bait headlines with Recharge Agenda, our curation of the market-making events of the week, distilled down into one quick-read newsletter. Sign up here for free
We also know that the scale of the climate emergency is grave enough to prompt a rare burying of the diplomatic hatchet by the US and China, who surprised the summit this week with a joint declaration of intent to work together over emissions reduction – though there were immediate questions over how that would work in practice.
We know that the scale of financial muscle lining up behind the energy transition is growing ever larger. Financial institutions representing a combined asset management portfolio of $130trn this week signed up to a plan to hit net zero by 2050 using a 'science-based targets' standard backed by environmental advocates.
Finally, we know that whatever is on the table so far at COP26 won't be enough. The summit has been characterised by dismal warnings over the inadequacy of pledges made, the latest from Climate Action Tracker claiming they still leave the world facing emissions "around twice the level" necessary to slow global heating to the Paris Agreement target of 1.5°C above pre-industrial temperatures.
What we don't yet know is how far that gap will be closed after Glasgow.
Article continues below the advert
Scotland may be hosting COP26 but the devolved government there has been forced to take a back seat to the UK administration of Prime Minister Boris Johnson on the Glasgow summit stage.
That has not, however, stopped First Minister Nicola Sturgeon putting the Scottish government's agenda centre-stage through eye-catching announcements like its £115m-plus ($155m) draft action plan to become Europe's lowest-cost hydrogen producer.
It was no great surprise that Scotland's plan was just one of a slew of H2-related initiatives to emerge from the summit, the first COP to be held since the fuel became ubiquitous in any discussion of decarbonisation.
Twenty-eight giants of power and oil staged a show of unity when they launched a joint push to replace grey H2 from unabated fossil fuels with "lower-carbon intensity hydrogen", covering the green and blue varieties that are the focus of efforts globally.
As far as green hydrogen from renewables is concerned, Recharge reported in depth on the implications of a landmark report unveiled at COP26 by the International Renewable Energy Agency and the World Economic Forum which sets out 38 'enabling measures' that will help cut the cost of renewable H2 in Europe.
Governments may be crucial to the future of green H2, but the week again proved that billionaires have taken a shine to hydrogen. Australian tycoon Andrew Forrest widened his remit with a plan to "transform" Papua New Guinea into a hydrogen powerhouse, while India's Gautam Adani said his conglomerate will will spend $70bn to amass a 45GW renewable energy portfolio by 2030 and produce the world's cheapest green H2.
One note of caution came from investment bank Jefferies, which warned that the global supply of electrolysers will not be large enough to meet demand for green hydrogen by 2030, even in the least bullish scenarios.
To split or not to split? Last week that was the question posed to some of the world's oil supermajors over their fast-growing renewable energy businesses. This week two of the world's biggest industrial groups – US-based GE and Toshiba of Japan – answered it with a resounding 'yes'.
GE's plan to combine GE Renewable Energy with its sister Power and Digital businesses and then spin it off in early 2024 as a single publicly traded company "to lead the energy transition" is part of a seismic shake up proposed by the venerable American business, which aims to split in three into smaller, more nimble and focused component parts addressing energy, healthcare and aviation.
The dust had barely settled on that announcement when Toshiba – a partner of GE's in the Japanese offshore wind sector – proposed its own three-way split, again with one of the new companies heavily stressing its energy transition credentials.
This post appeared first on Recharge News.