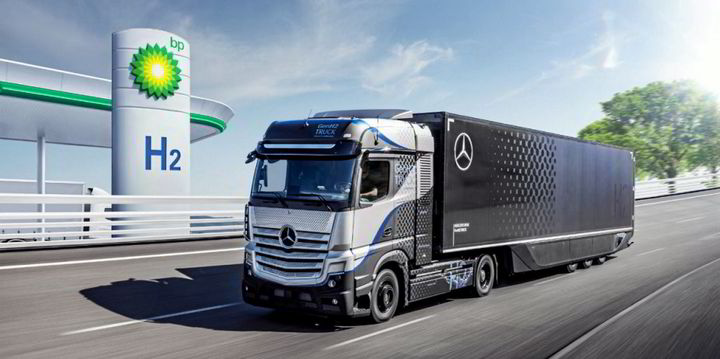 Even by its own standards, green hydrogen had a frenzied few days as more of the world's big corporations – not to mention an entire nation – piled in to reveal big plans for the ubiquitous energy transition fuel. Though one commentator questioned whether the whole sector is suffering from a severe case of 'hopium'.
The week started with oil & gas supermajor BP proposing to build up to 500MW of electrolyser capacity on Teesside in England's northeast, alongside a major blue hydrogen facility already planned there, to serve a new generation of clean-fuelled heavy trucks.
After that the green H2 just kept flowing. A deal to advance an epic 45GW-powered project in Kazakhstan; a 10GW Total Eren plant in Chile tapping "the world's best onshore wind"; China's Sinopec building what's claimed as the biggest solar-to-H2 facility so far.
Global power giant Iberdrola did its part to raise the bar when it took the wraps off a green steel initiative that will replace gas with clean H2 in iron ore processing via a 1GW electrolyser that's among the biggest planned in Europe to date. The role of green hydrogen in steel production was on the mind of research group BloombergNEF, which said the metals sector is on the cusp of a "titanic pivot" to clean H2 providing the latter can get its costs down enough.
There was also a big vote in confidence for hydrogen's prospects from South Korea, which revealed plans for a huge overseas network of green H2 supply bases to meet vast demand by 2050.
Not even the most evangelic green hydrogen advocate, however, expects its road to decarbonisation to be a smooth one, and as always Recharge provided insights on the context as well as the contracts.
Article continues below the advert
A senior executive from offshore wind pacesetter Orsted warned that Europe needs a distribution grid that links industrial clusters if the continent's hydrogen economy is to take off, echoing a similar call earlier from Siemens Gamesa.
And there were some hard questions posed as to whether green H2 can really play a meaningful part in decarbonisation at all, in an opinion piece from sector expert Andreas Biermann, who argued the sector won't have the scale needed before 2030 – and after that it will have been superseded by other solutions.
The future of the North Sea – a global epicentre of offshore oil & gas production – came into sharper focus as two major UK ports with their roots in fabrication work for fossil fuels unveiled plans for a greener era.
Recharge reported in an exclusive interview how the Port of Nigg in northeast Scotland – once a hive of oil & gas activity – is in line to host what will be the UK's largest wind tower factory as part of a dramatic reinvention around steel structure manufacturing for offshore wind, including for floating platforms.
The story was similar a few miles away at Ardersier, another veteran of the 1970s North Sea oil boom that is reconceptualising itself for the energy transition with a 'green circularity' ambition that has floating wind at its heart thanks to an exclusive arrangement with sector pioneer BW Ideol.
Recharge explored in-depth the prospects for 'North Sea 2.0' in the run-up to the COP26 climate summit, where the UK faced criticism for its continued backing for oil & gas in the region, not least the proposed Cambo field.
The shifting balance of power between a fading oil & gas sector and a new start in renewables was reflected this week when supermajor Shell pulled out of the controversial oil project in a move that cited economic grounds, but which environmental campaigners hailed as the "beginning of the end" for fossils in the region.
When Orsted in 2017 and 2018 secured with not a government subsidy in sight the German North Sea wind projects that would become Borkum Riffgrund 3, there were those who asked how the multi-billion-euro development could advance.
The recipe, it emerged this week as the Danish group took a final investment decision on the project – the first for a merchant offshore wind farm in Germany – is to mix some chemicals (BASF and Covestro), add a generous helping of online retail in the form of Amazon with a measure of supermarket shopping (German grocer REWE) and finish off with a dash of Google.
All the above are corporate power purchase agreements (PPAs) struck for various chunks of Borkum Riffgrund 3's 900MW of capacity, which together with bringing in a co-investor for half of the project have underpinned its viability to the point where Orsted could give it the green light – surely a model for the future as offshore wind expands around the globe.
This post appeared first on Recharge News.