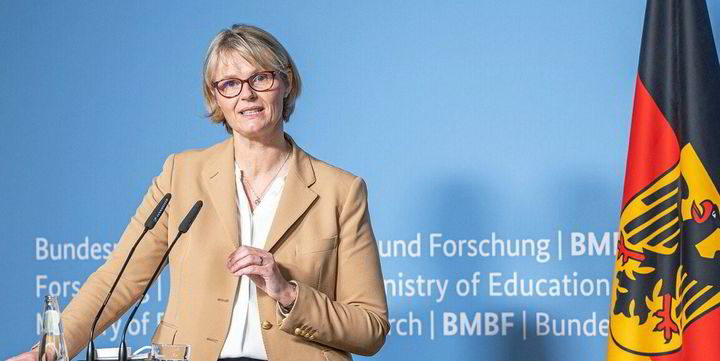 Germany's government has issued funding guidelines to kick-start the ramp-up of a global green hydrogen economy as part of its national hydrogen strategy.
As a key part of the regulation published in the country's federal gazette this week, Berlin has earmarked €350m ($405m) for support to green hydrogen projects outside Germany.
"Germany remains an energy importer. So we have to rapidly set up supply chains for green hydrogen from abroad," science minister Anja Karliczek said.
"International cooperation in research and innovation in green hydrogen technologies is an essential pillar of the national hydrogen strategy.
"With this funding guideline, we are providing important impetus to promote the export of hydrogen solutions 'Made in Germany'."
When presenting the rough outlines of its national H2 strategy in June last year, the government had already promised €2bn in fresh support for hydrogen projects abroad, out of a total of €9bn foreseen for the ramp-up of the H2 sector at home and internationally.
Article continues below the advert
Germany since then has actively been searching for partners around the globe that can provide Europe's biggest economy with vast amounts of green H2 from inexpensive renewable energy at the best locations world-wide, while simultaneously promoting electrolysers and other hydrogen technology from Germany.
Karliczek in August had signed a communiqué of intent with Namibia to build up the African nation's enormous solar and wind energy potential, and then develop its green hydrogen economy. Germany in June also signed a declaration of intent to from a hydrogen accord with Australia that would include German co-funding of industrial-scale green H2 plants Down Under.
The funding directive issued this week aims at projects to produce, process and store green hydrogen, as well as transport and use the green gas in countries outside the EU, which can receive non-refundable investment grants worth up to €15m. Research facilities will be supported by up to €5m per project.
"In addition to a strong home market, we are also relying on pilot projects for the hydrogen market ramp-up our industry in partner countries," economics and energy minister Peter Altmaier said.
"Green hydrogen and its secondary products can be generated efficiently and cost-effectively there. At the same time, German companies hold a leading position worldwide in hydrogen technologies.
"By promoting pilot and reference projects abroad, we are strengthening Germany as an industrial and export location."
This post appeared first on Recharge News.