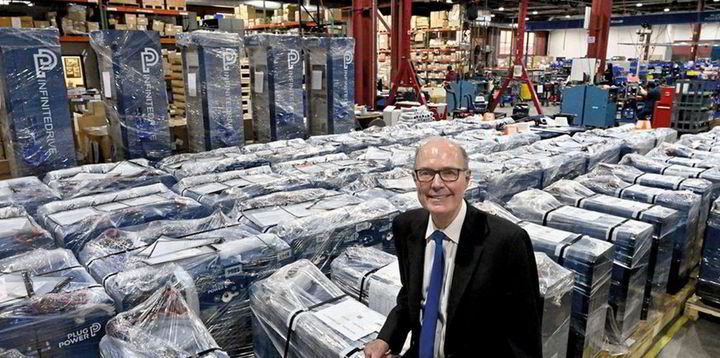 Two pioneers in the renewable hydrogen space, Plug Power and Lhyfe, have inked a deal to develop as much as 300MW of renewables-powered H2 plant "throughout Europe" by 2025, with a giant 1GW facility to follow.
The tie-up builds on a pilot project earlier this year that used PlugPower's polymer electrolyte membrane (PEM) electrolyser technology for a 1MW hydrogen production facility, developed by Lhyfe employing power from the FloatGen floating wind unit, operating off Le Croisic, in the French Atlantic.
"Thanks to this partnership, we will be able to rely on Plug Power's cutting-edge technology to deploy numerous hydrogen production sites onshore and offshore, in Europe but also in North America, which has particularly important decarbonisation needs, in particular to replace the fossil fuel products that are still extracted and consumed on a massive scale," stated Matthieu Guesné, CEO of Lhyfe.
Andy Marsh, CEO of Plug Power, said: "The team at Lhyfe have bold ambitions and capabilities that align with our own vision for a decarbonised future, and ability to scale hydrogen infrastructure quickly.
"In North America, we've already built a robust 'hydrogen highway,' which includes 165 hydrogen fueling stations and stationary power for businesses and institutions, a success we plan to replicate in Europe."
The Lhyfe-Plug Power partnership also expects to "consider working together to co-develop" a US-based offshore wind electrolyser plant.
Plug Power, which claims to be the largest buyer of liquid hydrogen globally, has installed several PEM systems in Germany, France, The Netherlands, Italy and Portugal, and has a joint venture with Renault called HYVIA.
This post appeared first on Recharge News.