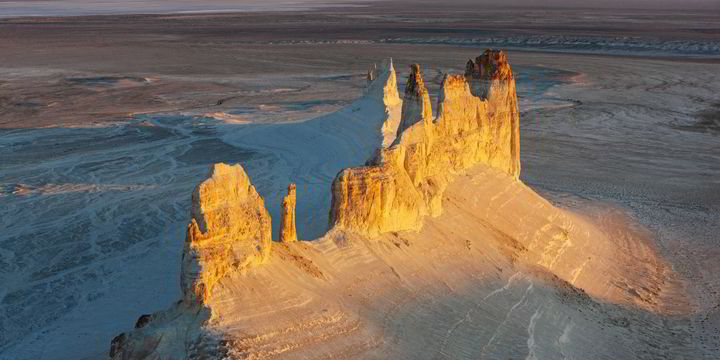 Long a destination for foreign oil and gas investment, the Caspian and Central Asia region is now firmly on the radar as one of the next promising frontiers for renewables growth as nations set ambitious targets to reduce their economies' dependence on fossil fuels.
The region's energy investment profile is rapidly shifting green-wards and now includes epic-scale project plans that are among the largest underway globally.
In the case of Azerbaijan, for example, oil production is declining and despite a rise in gas output, the high cost of delivering Azeri gas to Europe means project expansions look unlikely. This means the government is looking to attract investment in new sectors such as wind and solar, including offshore development.
Azerbaijan needs a rapid roll-out of wind power to meet its renewables target of 30% installed capacity by 2030. The country has around 1GW of hydro capacity, but hardly any wind or solar installations, and fossil fuels, mostly gas, account for over 90% of power generation. The good news is that there is plenty of potential for offshore wind in the Caspian Sea – as much as 157GW of technical capacity, according to the World Bank.
The transition away from fossil fuels towards more renewables will take time. Oil and gas continue to account for over 90% of Azerbaijan's goods exports, over 40% of GDP, and around 60-70% of consolidated government revenue, according to analysts at Moody's Investor Service.
However, Azerbaijan began plotting its route towards a more diversified economy a while back. A national economic roadmap – approved by President Ilham Aliyev in late 2016 – calls for an increase in the share of non-oil sector foreign direct investment (FDI) from 1.5% to 4% by 2025, and an increase in the share of non-oil sector exports from $200 per capita in 2016 to $450 by 2025 and $1,200 by 2035.
Article continues below the advert
The International Finance Corporation (IFC), part of the World Bank family, says it may be willing to finance renewables projects in Azerbaijan, including offshore wind. Earlier this year, it signed a memorandum of understanding (MoU) with the government of Azerbaijan to help shore up private investment in the power sector and support the country's energy transition.
The IFC and the World Bank will over the next nine to 12 months help Azerbaijan's energy ministry assess the country's offshore wind potential and develop a roadmap for development. The next phase should see implementation of the first projects.
"Among its renewable energy resources, offshore wind is particularly promising as a mid-to-long-term energy source given the country's excellent technical potential in this area," Aliya Azimova, IFC country representative in Azerbaijan tells Recharge.
Strong winds near demand centres
With so much potential, Azerbaijan can prioritise the most feasible areas near industrial and residential demand centres and away from oil and gas extraction areas. The region north of Baku, for example, has strong winds and shallow waters suited for fixed-bottom installations.
"Regions further away from the shore also offer good wind resources, though the water tends to be deeper, implying these areas are more suited for floating wind turbines," says Azimova.
Azerbaijan has already taken its first small step towards offshore wind development. National oil company SOCAR recently entered into an agreement with French company Technip Energies for a pilot project which could pave the way for electrification of upstream operations in the future.
However, rising domestic energy demand, coupled with the emission reduction targets, means wind will also be needed to power up households and industries. Power sector reforms, such as the introduction of Power Purchase Agreements (PPAs), should help unlock investments.
"The country's plan to raise its share of renewables in total generating capacity to 30% by 2030 is ambitious. However, falling solar photovoltaic and wind power costs, combined with well-crafted policy support and innovative financing, make this national vision realistically achievable," Gurbuz Gonul, director of country engagement and partnerships at the International Renewable Energy Agency (Irena) tells Recharge.
As Azerbaijan reduces its dependence on export revenues from oil and gas, renewable energy technologies offer a unique opportunity to boost economic growth, adds Gonul.
"Along with supplying clean, sustainable power and heat, a renewable-based energy system would unlock an array of new socio-economic benefits including employment opportunities and GDP growth," he says.
Onshore wind and solar projects are already attracting foreign investment. Saudi Arabia's ACWA Power, for example, is investing $300m in a 240MW Wind Farm in the Absheron and Khizi districts in the eastern part of the country. The investment is underpinned by a 20-year power purchase agreement (PPA) and the wind farm is expected to be operational by the second quarter of 2023.
As for Solar PV, Masdar of the United Arab Emirates is investing $200m in a 230MW project in the Baku and Absheron districts. The solar plant, expected to be operational by early 2023, is also underpinned by a PPA. Oil major BP has plans for a 240MW solar power plant in the Zangilan and Jabrayil districts in the Nagorno-Karabakh region where much of the infrastructure has been destroyed due to the armed conflict with Armenia. These territories have been declared a "green energy" zone by Aliyev.
There are plans for wind power plants in the areas of Lachin and Kalbajar with support from Turkey. Japanese group TEPSCO has also expressed an interest in developing renewables projects in Nagorno-Karabach.
Kazakhstan – space for megaprojects
Northeast in the Caspian Sea region lies Kazakhstan, another country whose economy is heavily dependent on oil revenues. Hydrocarbons account for 60% of total goods and services exports and contribute to around 40% of consolidated government revenue, according to Moody's. In the electricity sector, cheap domestic coal is the dominant fuel accounting for around 70% of generation.
Until recently, Kazakhstan was seen as a laggard in renewables investments compared with its neighbour Uzbekistan, the latter of which is rolling out megaprojects for wind and solar with backing from Middle Eastern investors. Kazakhstan's medium-term renewables targets are also modest; the government targets just 6% renewables in the electricity mix by 2025, up from negligent volumes now, and 10% in 2030. This compares with Uzbekistan's renewables target of a 25% share of power generation capacity by 2030.
But there are signs Kazakhstan is beginning to catch up. Its long-term target of renewables accounting for 50% of electricity production by 2050 means huge investments will be needed. Earlier this year, German investor Svevind and Kazakhstan signed Memorandum of Understandings (MoUs) for two megaprojects encompassing wind, solar and hydrogen.
This included a 30GW wind and solar project in the southwestern Mangystau region with a 20GW electrolysis installation to produce hydrogen. Svevind, in partnership with government-backed investor Kazakh Invest National Company, also plans to install 45GW of wind and solar farms in steppe areas in western and central Kazakhstan, with 30GW of electrolyser installations. The hydrogen from these megaprojects could be exported to Eurasian markets or used domestically, for example for steel or aluminium production.
Sceptics will be quick to point out that the mega-projects are still on the drawing board and that they appear overly ambitious. However, Kazakhstan's potential for renewables is huge with plenty of wind, sun and available land. The question is if existing infrastructure, for example in the hydrocarbon-rich Mangystau region, can be repurposed for hydrogen transportation. More investors will also need to come onboard, and backing from multilateral financial institutions seems key.
"Uzbekistan and Kazakhstan have made significant pushes in renewables in recent years. I would expect them to continue to attract investors. A key motivating factor has been that key international institutions – IFC, Asian Development Bank (ADB), European Bank for Reconstruction and Development (EBRD) – have been willing to invest," Maximilian Hess, head of political risk at consultancy Hawthorn Advisors tells Recharge.
Uzbekistan ambition
Uzbekistan, which targets 8GW of wind and solar capacity by 2030, is the most advanced of the Central Asian nations when it comes to renewables investment. This is exemplified by Saudi Arabia's ACWA Power's plans to build a massive 1.5GW wind farm in Karakalpakstan, north-west Uzbekistan.
ACWA Power is also investing in wind projects totaling 1GW in the Bukhara and Navoi regions with start-up expected in 2024. Abu Dhabi's Masdar targets 1GW of wind capacity in the country, with the first 500MW Zarafshan wind farm slated for 2024. The investment cost is estimated at $600m.
"We are seeing a lot of interest in Uzbekistan's renewables sector. The government is encouraging private investment. There could be a wave of activity from foreign investors," Alistair Wishart, counsel with law firm Vinson & Elkins tells Recharge.
Wishart added that support from multilateral financial institutions such as the IFC, ADB and the EBRD "can really help managing country risk and political risk for investors."
One significant hurdle for renewables deployment in the Caspian Sea and Central Asia region, however, is ageing and inadequate power grids. The grid infrastructure needs to be upgraded to tackle intermittent supply and cross-border interconnection capacity needs a boost to allow for exports and imports of electricity. Uzbekistan, for example, currently supplies Afghanistan with around 40% of its electricity and needs more flexibility in terms of imports and exports from Central Asian neighbours.
"Strengthening interconnector capacity between Uzbekistan and Kazakhstan will be important for the ability to export renewable electricity. Historically, the Central Asia power grid was built as one electricity system under the Soviet regime. It was left to rot and suffered from 30 years of underinvestment," says Hess.
"Exporting renewable electricity and hydrogen is always going to be more difficult than exporting hydrocarbons," he added.
Overhauling power grids and repurposing oil and gas infrastructure for hydrogen exports will not be cheap. But it looks crucial for the energy transition to take place and for investments to flow into renewables rather than oil and gas.
This post appeared first on Recharge News.