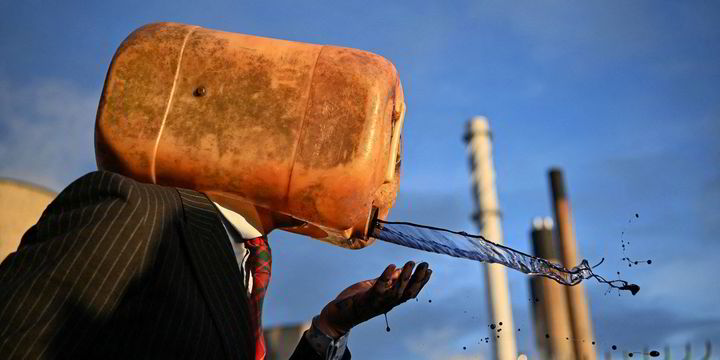 The United Nations' COP26 climate talks got under way in Glasgow this week with 120 world leaders setting out plans for cutting greenhouse gas emissions to limit dangerous global warming.
Bringing star power to the event, billionaire space-travelling Amazon boss Jeff Bezos and movie star and UN environmental campaigner Leonardo Di Caprio also attended and were greeted with open arms.
It was quickly apparent Big Oil was less welcome on the sidelines of the two-week talks.
Many people, of course, blame fossil fuel suppliers for rising global temperatures.
But many oil and gas companies — particularly the large European majors Shell, BP, TotalEnergies, Equinor and Repsol — insist they are "part of the solution".
All are investing billions of dollars into renewable and lower-carbon forms of energy and technologies, even though for many not enough is being done in practice, or fast enough, to meet the targets agreed in Paris in 2015.
Article continues below the advert
So why their lack of visibility?
Last week, Shell chief executive Ben van Beurden claimed the supermajor had been told it "would not be welcome" at the conference and fossil fuel companies were reportedly kept away from fringe events, as UK officials did their utmost to keep the proceedings focused on the most ambitious aspirations.
Shell has long been a lightning rod for environmental protests and is currently in campaign groups' crosshairs in the UK over the potential development of the Cambo oilfield, in which it has a 30% interest.
Its presence in Glasgow would no doubt have added to fears about disruption to COP26.
At the sidelines of the event, however, one official from the United Nations Framework Convention on Climate Change told Upstream that "everyone was welcome who wants to be part of the solution".
About the only fossil fuel company logo on view was that of Santos alongside a model of its Mooomba carbon capture and storage project at the Australia pavilion, a presence that attracted criticism at home.
Norwegian energy player Equinor — which has big investments in the UK wind sector and is involved in the East Coast Cluster blue hydrogen industrial decarbonisation scheme — said some of its officials would indeed be speaking at side events related to the energy transition.
IOGP, the oil and gas lobby group, is also co-hosting a talk.
BP chief executive Bernard Looney, meanwhile, spoke at a side event virtually, but this was kept very much under the radar by the UK supermajor.
But overall, and in contrast to the pure play renewable and low-carbon energy providers that have rented stand-space at COP26, the oil and gas industry presence has been hard to find.
So, did Big Oil decide to stay away or, as Van Beurden claimed, was it told it "would not be welcome"?
Whatever the truth, Shell's quandary perhaps shows that the industry still has a long way to go before it is trusted.
Despite the industry's pledges to decarbonise, and promises to invest the profits from oil and gas production into transitioning to lower carbon energy, the huge returns still being generated by hydrocarbons being ploughed back into share buybacks and dividends are a difficult habit for corporations and investors to kick.
Take BP, which Looney described this week as "a cash machine" as current high oil and gas prices pushed quarterly profits to $3bn.
Members of the general public tend to be cynical or ignorant about promises to reinvest profits into a renewables sector offering lower returns.
The world may still use oil and gas in huge quantities but, as COP26 seems to have shown, many remain deeply suspicious of the companies that produce it.
This opinion article was first published by Recharge's sister title for the oil & gas industry, Upstream
This post appeared first on Recharge News.