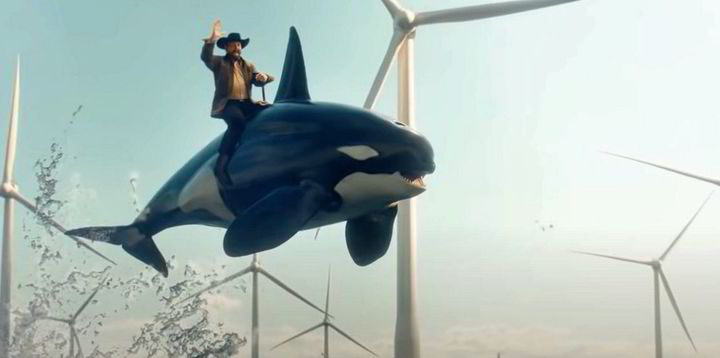 He has battled Bruce Lee in The Way of the Dragon, defeated David Carradine in Lone Wolf McQuade and led an elite unit of anti-terrorist commandos in The Delta Force. Now Chuck Norris is leading the fight against climate change.
Norway's Aker has enlisted the Hollywood action icon in a campaign to promote its skills in tackling the challenges of the global energy transition.
In the advertising campaign, Norris singlehandedly tackles some of the world's biggest climate challenges, such as capturing carbon, turning the power of the sun and wind into energy and taming big data with karate chops.
It is then revealed that he is handing the mantle in the fight against climate change over to Aker, so he can move on to other "Chuck kind of stuff".
The video shows the star ride a moose to visit Aker's carbon capture operations. He also takes his own private orca to see its offshore wind operations.
The advertisement was shot in the US and Norway and directed by Norwegian-born director Espen Sandberg, who directed 2017's Pirates of the Caribbean: Dead Men Tell No Tales.
"It has been incredibly fun to be part of making the Aker group's new ad — pulling off a multi-location production in record time and during a pandemic," Sandberg says.
"It is as ambitious as they are — which says a lot. It is full of humour and action and is a fresh and positive contribution to the work to solve our joint environmental and energy challenges."
Aker chief executive Oyvind Eriksen says: "We want the campaign in its entirety to be an appeal for collaboration across industry, society and politics to solve our collective challenges."
Aker Solutions vice president for marketing, Anja Johansen, who is project manager for the campaign featuring Norris, says the humour-based ad challenged the company to rethink its messaging around the energy transition.
"In Aker, we constantly work to think creatively to solve the challenges of the future. This concept plays perfectly into that same mindset," she says.
"Humour is a bold technique to gain attention, not least when we are addressing such an important issue. But we hope this says something about how Aker pushes the envelope and that it stimulates even more creativity and innovation."
Norway goes to the polls next week, with the future role of the oil and gas industry a key topic of debate.
"We have to be able to walk and chew gum at the same time. It's not about 'switching off the black and switching on the green'. Oil and gas will continue to be an important part of the energy mix going forward," Eriksen adds.
"At the same time, we have to invest in renewable energy and employ green technologies to significantly reduce emissions, build new industries and create new green jobs. If elected officials and authorities establish favourable conditions, we can accelerate the Norwegian industry in a greener direction."
This article first appeared in Upstream
This post appeared first on Recharge News.